About Us
A special word from our Founder –
Hello, I am Derrick Prichard. I am the founder of AAHN'S PLACE. Our Home is an idea that I had in my mind for many years before I had the opportunity to bring my dream to fruition. It was through a connection with a lifetime friend and business associate that my vision was finally able to be brought to life.
I feel that I offer a pure example of what it means to focus on family. I grew up in a home with five brothers and no sisters. My biological father and mother were separated before I was even born. I had another brother that lived with my biological father that I spent time with whenever visiting my father. As my biological father is the oldest of 11 children, growing up I spent lots of time with cousins and extended family. That is where my belief in the importance of family took root.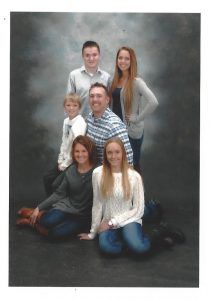 I was very active in my youth. I played soccer all through my time in school and even played a year in college. In high school I tried to get involved in all I could, specifically, student government, soccer, drama, and tennis. I loved the social interaction it provided me. I went on to attend college for a year at Oklahoma City University, and then spent a year at the University of Kansas, and then finally graduated from Wichita State University with my bachelor's degree in psychology.
In my undergraduate years, I started to realize how I could make a career out of my passion for helping others. My first experience was working at PrairieView hospital in Newton, Kansas. I recall many times working with youth who had severe mental health issues combined with family struggles. While most might be turned away by the complex challenges these children faced, I was compelled to do what I could to help and was not discouraged by any degree of difficulty. After completing my undergraduate work, I began working at United Methodist Youthville. I was a Family Support Worker for two years, working with families that we're dealing with being separated and the children being in foster care. It was at that point that I realized just how much of an impact being in foster care could have on children and families. That compassion for families would carry me into starting my master's program. After two years I completed my master's program and became a Licensed Marriage and Family Therapist.
For the next nine years, I worked at different organizations with children and families of various backgrounds and with different kinds of presenting problems. I enjoyed feeling like I could have an impact on bettering their lives. In 2011, I finally was able to achieve one of my life goals of opening my own private therapy practice. I gradually built my practice into something that was recognizable across the Wichita community, and a short four and a half years later I opened my second office in Winfield, Kansas. During the 15 years of providing family therapy, I witnessed all kinds of physical and emotional pain in the people I worked with. This contributed significantly to my desire to want to find another way to make a positive impact on people's lives.
In the summer of 2016, my business partner and I were discussing the passion that I have for working with children and families. It was through this discussion that it was decided that I would have an opportunity to realize my dream. We turned an eyesore of a failing hotel into a healing home for children in need, while presenting Wellington a chance to exhibit the best qualities their small town community has to offer.
The meaning of AAHN is pride. This is what AAHN'S PLACE embodies. While being in foster care can definitely affect a family, it is the goal of AAHN's place to help youth develop pride in themselves and restore hope for a positive future and life.
Life is not always simple and easy. During the early years of being a therapist, I balanced work with being a single dad raising two young daughters. I balanced the stress of highly emotional therapy sessions while making sure I was meeting the emotional and everyday needs of my daughters. This included coaching soccer teams, learning to braid hair, reading bedtime stories, ultimately making sure they were growing into mature young women. They too were children of divorce and it was important to me that that this unfortunate circumstance they had no control over wouldn't prevent them from having a childhood all children deserve. Luckily for them, I found my future wife who naturally filled the void in our family and became an amazing stepmother for them. Since that time, we have blended two families into one and watched as the children grow into young adults.
Life isn't always what we envision it should be. There will be pain we must learn to overcome. My purpose in life is to help others find the tools they need to build pride in themselves and restore hope in a happier, healthier future.
Meet our Administrative Team
Director -Electra Knowles
Electra Knowles is currently a resident of Winfield, Ks. She joined Aahn's Place in early 2021. She graduated High School in Loveland, Colorado and moved to Kansas where she attended Cowley County Community College and Southwestern College. She finished her education at Southwestern with a Bachelor of Science in Criminal Justice and Security Management and a Master's of Science in Leadership. During and after college, She worked for the Kansas Department of Corrections for 15 years.
Working in the prison system gave her the opportunity to find her niche; helping people and advocating for those in need. She held the positions of Officer, Case Manager, Instructor, Public Information Officer, Crisis Resolution Team Leader, and Policy Compliance Manager. She has worked for multiple correctional facilities in Kansas and has also served to audit many correctional facilities in California.
While her experience seems extremely based in corrections, it truly is based in human services. There is great importance in identifying each human as important. No matter what their history is or their current position in life may be, they are special and important in this world. She enjoys helping our employees and residents thrive and she finds it very rewarding to assist others with their goals. Whether it is working with adults or helping the youth at Aahn's Place, she always work for the people. She feels extremely fortunate to be in a position where she can make a difference.
Outside of work she spends most of her time being a mother to two wonderfully busy kids, Lilli and Kane. Most evenings and weekends are spent going to their sporting events and hanging out with their animals. They have 3 cats and 3 dogs. They also enjoy fostering dogs in need and volunteering their time through Heartstrings Animal Advocates.
"I raise up my voice- not so that I can shout, but so that those without a voice can be heard…." – Malala Yousafzai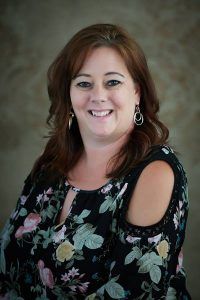 Office Manager – Kim Oleson
I've lived in the Wellington area most of my life. I attended Wellington High School graduating with the class of '94. My husband Devon and I just celebrated our 24th wedding anniversary and together we have two amazing children. I enjoy spending time with my family and friends, kayaking, being at the lake and playing with my pups. I began working at Aahn's Place in early April of 2018, I really love it. The staff are great people and I love being a part of something this special and greatly needed in our community.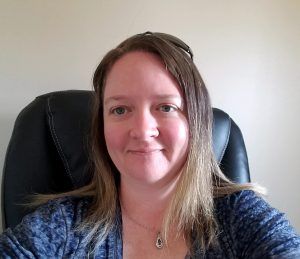 Intake and Discharge Coordinator – Katie (Gaddie) Billington
I was born and raised here in Wellington, KS, and graduated from Wellington High School in 1996. Go Crusaders!! Married with four children and two dogs we have a busy home life. My educational background includes a M.S. in Clinical Psychology from Emporia State University. I have a B.A. in Psychology and a B.S. in Criminal Justice from Wichita State University.
I became interested in the field of Psychology during my early high school years, but it wasn't until my second year of college that I decided to pursue that field. I began my career as an Intake Clinician in the Reception and Diagnostic Unit of the El Dorado Correctional Facility. It was an exciting job and I learned even more about thinking and behavior patterns. I also learned about peoples' childhoods, the hardships they endured, and how they learned to survive their worlds.
Through my experiences at the El Dorado Correctional Facility, I decided I wanted to try to help people during their formative years. That led me to community mental health where I worked with transitional aged children and young adults. Then the opportunity came to join Aahn's Place. An opportunity to help children through difficult times, and make a difference in my hometown, AWESOME!!
I'm reaching the goal of enjoying my career, and I look forward to the future with Aahn's Place!
Mileu Manager – Shyla Niss
Director of Community Relations and Marketing Coordinator – Ashley Shuck
Administrative Assistant – Aiyana Mitchell